It is no surprise that this challenging pandemic has brought some of us back to our nostalgic roots. Whether you find yourself reaching for the Pop-Tarts, snuggling up in your childhood bed, or dressing in your comfiest summer camp chic, we are all looking for a bit of comfort right now. Memories of sunny days at summer camp means everyone's favorite TIE-DYE is back in style. Want to custom dye your MasksByU face mask? Here's how:
Materials:
MasksByU Face Mask
Tie-Dye (we used Tulip Tie-Dye Party Kit, but any dye formulated for cotton will work)
Rubber Bands
Gloves
Surface covering (a plastic table cloth works great)
Apron or smock (optional)
Step 1: Fold Your Mask
Folding is how you create unique patterns with tie-dye. One of the most popular is the classic swirl. To create a swirl, pinch the center of your mask and twist until you form a tight swirl, and rubber band to secure.
Another pattern is stripes, just like we did. To create the stripe pattern, fold your mask back and forth, like an accordion, then secure with rubber bands.
Step 2: Apply Dye
For this next step, put on your gloves (and an apron or smock if you would like to protect your clothing.) Wet your mask with clean water and wring it out. Select your colors, and follow the dye instructions to prepare dye for use. Apply the die using a squeeze bottle for most precise application, or by dipping the mask sections into a dye bucket. If you have extra dye, try creating something special with a white t-shirt!
We used three colors and dyed in sections to achieve the final pattern.
Now, let the dye set for 12-24 hours. The longer the dye sets, the more pigmented your colors will be. You want your dye to remain wet while it sets, so you can place it in a plastic bag or wrap to ensure it doesn't dry out.
Step 3: The Reveal!
After your dye has set, rinse your mask with water until the water runs clear.
At this time, remove the rubber bands and reveal your masterpiece! Lay your mask flat on a covered surface to dry.
Now it is time to show off your one-of-a-kind MasksByU Tie-Dye Mask!
Wear & Care
Before wearing or when it needs to be cleaned, wash your mask on a cold/gentle cycle, or hand wash. Lay flat to dry.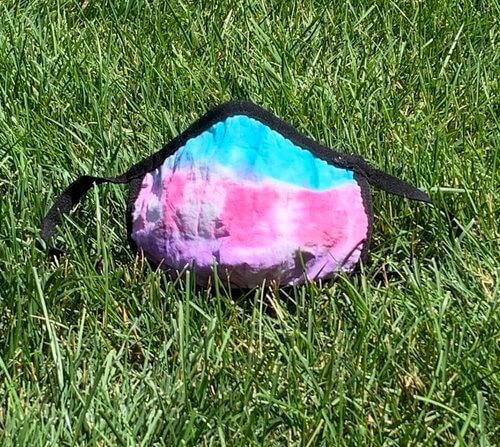 Did you tie-dye your MasksByU? We want to see it! Tag us on Instagram @MasksByU @CoolersByU