Lets take your next cooler to a whole other dimension. Whether your making a backdrop for Rick and Morty's new adventure, reliving your childhood with a toy story throwback or just want to paint the stars, this tutorial is perfect for you. This one is perfect for beginners and experts alike:
First, you will need a few materials; a cooler with one side painted black, two paint brushes, a sponge, paint (pinks, blues, purples work best, you'll also need white and black), a cup of clean water. Once you have everything, put your paints on a plate or painters palette and begin.
Step 1: Using the dry sponge, dab paint randomly around cooler. repeat with all desired colors
Step 2: Using black paint and sponge go back in and fill in some areas.
Step 3: Once satisfied with steps 1 & 2 grab a clean wet paint brush. dip the paint brush in white paint. Use your finger on the bristles to "splatter" white paint around the background.
Once your done and the side is dry, seal it and enjoy!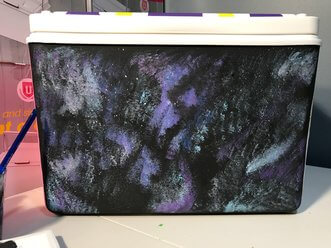 We choose to add our favorite alien from Toy Story!