COOLERSbyU has launched a face mask with a creative twist! After months of being locked inside due to COVID-19, states across the country are finally opening back up to the "new normal." Some cities, towns, and states are requiring and recommending their citizens to social distance a minimum of 6 feet, and when under 6 feet/inside, to wear a face mask. There are many options out there for face coverings, but at COOLERSbyU, we think your face covering should show your personality. Why should wearing a face mask be boring? When we speak to our kids about staying safe and wearing a mask at school or with friends, how can we make the conversation more fun?
It is important for families to talk about how to stay safe and COVID-19 impacts, and how one way to stay safe is by wearing a face mask! Our goal is to help continue the conversation about between parents and kids through an activity that everyone can participate in and enjoy. We envision parents and children decorating their MASKSbyU fabric face masks together, and talking about the new everyday restrictions and ways to stay safe. In a time when so much around us is uncertain and impersonal, we want to bring a smile to your face. We want U to have the ability to show your personality through decorative and creative artwork on your mask. And when you walk by someone with a customized face mask that doubles as a piece of art, we hope their artwork will bring a smile to your face as well. It is important that we all follow the appropriate guidelines, and with MASKSbyU, you can protect yourself and others...and be creative at the same time!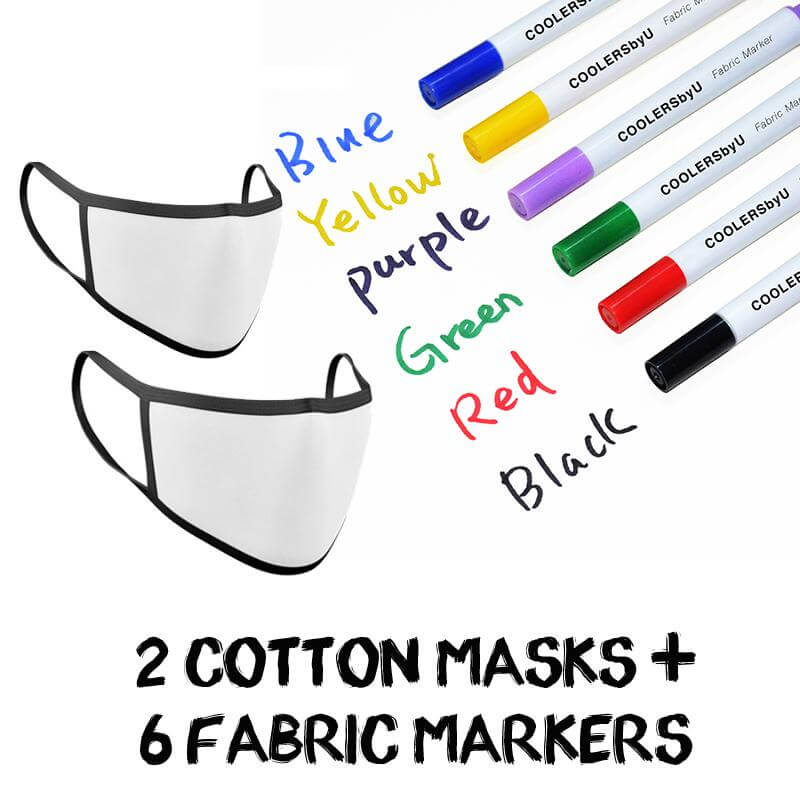 Each MASKSbyU - Customize your own mask kit comes with two white cotton masks with comfortable black behind-the-ear loops, and six fabric markers in red, blue, green, purple, yellow and black. Decorate your face mask to fit your personality and share your artwork with everyone you meet. How about a smiley face to make those around you laugh? Or a beautiful scene of flowers? Maybe a quote or word that is meaningful to you? There are infinite possibilities to customize your face mask!
COVID-19 guidlines don't have to be boring. Make your face mask FUN and let your creativity shine through with a one-of-a-kind MASKSbyU today!
*Please visit the CDC website for guidelines and information on COVID-19 safety.